About Chris' Sounds – Recording Session Kits and Sonic Palette
Chris Brush plays Ludwig drums. On a recording session at Chris' studio PlethoraTone, your tracks will receive some percussive love from one of these kits (Custom Master Session clients can specify the kit of their liking):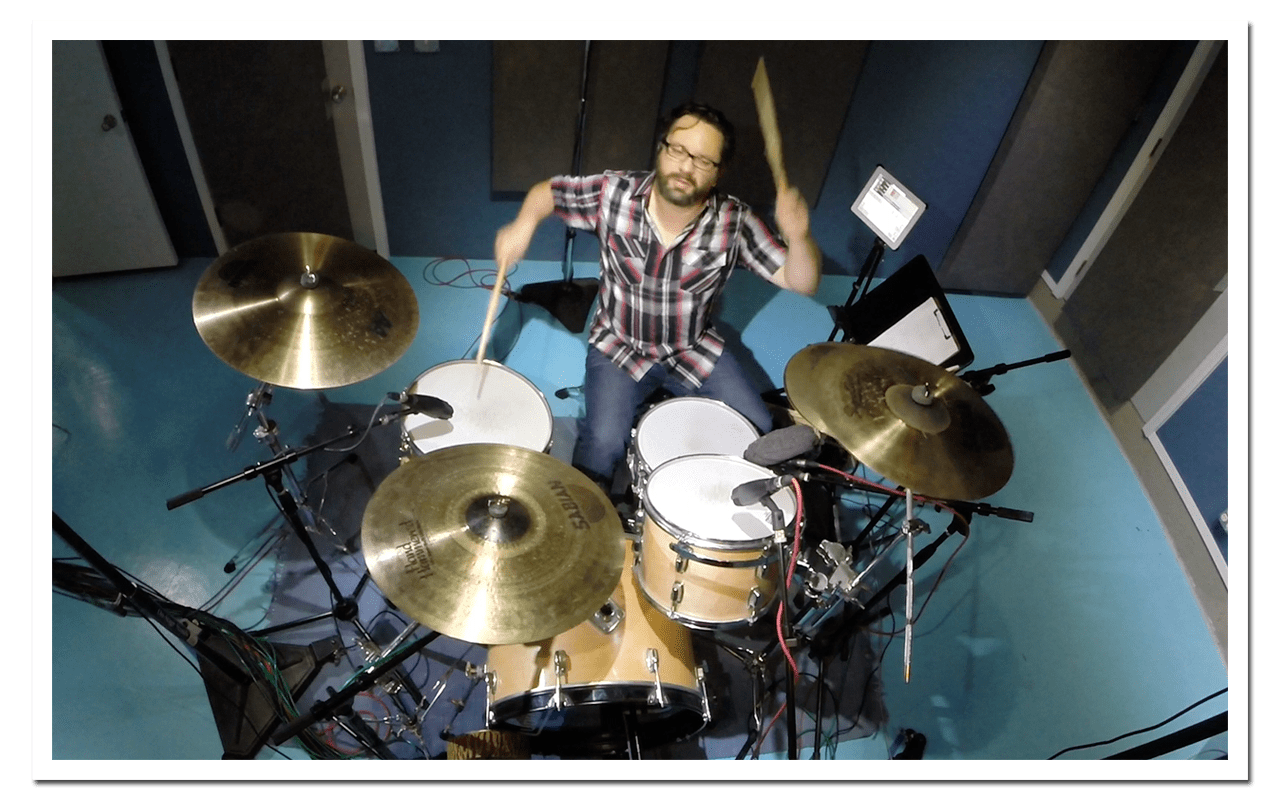 1: Customized Ludwig '88 Rocker Series Kit (natural finish)
16×22″ kick
9×13″ rack tom
16×16″ floor tom
Chris' Notes: This kit is my default for just about any recording session. It's a real chameleon and balances both modern sounds with vintage construction. The kick is incredibly punchy and the toms are round, full, and have a slight vintage sound to them. All original factory tom mounts have been removed in favor of suspension mounting for greater resonance. The Rocker series kits from Ludwig were the first kits manufactured in the new Monroe, North Carolina facility and featured heralded poplar/maple shell construction with lugs from the older Standard series. Don't be confused! In 1994, the Rocker name was given to newer, sonically inferior Taiwan-made entry-level kits – this Rocker kit is not one of those to be sure!
2: Ludwig '97 Classic Series Kit (blue marble finish)
16×22″ kick
8×8″ rack tom
8×10″ rack tom
9×13″ rack tom
14×16″ rack tom
Chris' Notes: This is a killer kit! It sounds big and open. The tom depths are perfect for maximum sustain. If a recording session needs something loud, modern, and hard hitting, these drums are perfect. In the late '90s, the Classic series featured 6-ply all-maple shells, which yield a little "bite" not present in the older vintage shells. The Blue Marble finish was pretty rare in that it was hand-painted and timely to apply. By the turn of the millennium, the finish was retired. If I'd had it to do over, I would have opted for even more component drums in this series to custom match the kit to various session needs. They just sound so good!
3: Ludwig '70 Standard Series Kit (bronze strata finish)
14×22″ kick
9×13″ rack tom
16×16″ floor tom
Chris' Notes: The Standard kits featured the same shells offered on the top of the line kits of the day, but with cheaper hardware so Ludwig could compete with more cost-effective overseas kits. This kit has classic 3-ply poplar/maple shells with reinforcement rings and the "granitone" inner coating. The toms adapt to a wide range of tunings and sound deliciously round. The shallower kick can yield anything from a "slap" to a "boooooosh" and is so fantastically warm. The matching snare really rounds out the set. For any recording session where the goal is a less modern but still relevant drum sound, this kit is a client favorite.
4: Ludwig '63 Super Classic Series Kit (black galaxy sparkle finish)
16×20″ kick
8×12″ rack tom
16×16″ floor tom
Chris' Notes: I inherited this kit from my father and am one lucky guy. The kick and rack tom were purchased together and feature nickel-plated lugs while the floor tom was purchased separately and has chrome lugs. These shells are to die for – the legendary mahogany/poplar/mahogany 3-ply with round bearing edges, solid reinforcement rings, and white interior. They sound, hmmm, how else to put it… "wise." Like the '70 Standard kit, the toms have a wide variety of tuning ranges at which the sound stellar. The kick is small and has a very warm focused attack – it sounds like dynamite with absolutely no muffling. A recording session requiring a smaller yet dynamic setup with a vintage warmth will almost always see this kit used.
Chris has a ton of vintage and newer snares he chooses from on every recording session – thin shells, thick shells, shallow, deep, wooden, metal, the options go on and on. Chris' collection includes brands like Ludwig, Gretsch, Tama, GMS, Premier, Allegra, and more. Between shell choice, tuning, muffling, and wire size, no sound is out of reach. If there's a snare sound you have in mind, Chris can make it a reality.
Chris Brush plays Sabian cymbals. Every tone from dark to light, earthy to watery, focused to washy are represented. Of course, in the studio it's about what works to get the right sound. In addition to Chris' Sabian arsenal are sets of old Zildjian and Paiste cymbals that help round out the bronze palette.
If you wish to specify a kit for your online drum session, or even request a combination, Chris is happy to accommodate through his Custom Master Session package.
Customization for Your Drum Session